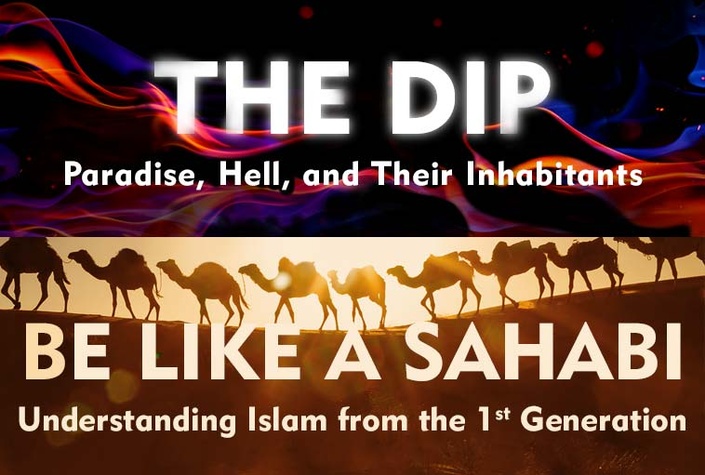 Course 1: The Dip: Paradise, Hell, and Their Inhabitants - Course 2: Be Like a Sahabi: Understanding Islam from the 1st Generation
2 Course Bundle,
Discounted Tuition Fee for Each Course
THE DIP . . . Paradise, Hell, and Their Inhabitants (3 CREDITS)
When the books are sealed, everyone is resurrected, and the judgement begins, you will be questioned about all that you did. Where will your deeds take you?
Where will your final destination be? Brace yourself for The Dip, a journey to the hereafter that will make your heart experience firsthand the beauty of the gardens of Paradise as well as the wretchedness of the pits of Hell.


THIS COURSE CONSISTS OF 12 CLASSES THAT COVERS:

The reality of Paradise and Hell
Names of Hell and their meanings
Names of Paradise and their meanings
Levels of Paradise and Hell
Inhabitants of Paradise and Hell
How to get the intercession of Rasulullah (Peace Be Upon Him)
The fate of disbelievers in the Hereafter
Type of punishments in Hell
Type of rewards in Paradise
How to defeat our common enemy: The Shaytan

Examples of common erroneous beliefs regarding paradise and Hell

How to save yourself and others

And much more!
--------





BE LIKE A SAHABI: Understanding Islam from the 1st Generation (3 CREDITS)

After preserving the revelation, Allah most graciously designed a model generation for this nation at the hands of His Messenger (Peace be Upon Him); the Sahabah (Companions). In this course, we will analyze what made them the ideal believers, the most successful generation, and the most flawless embodiment of Islam. We will learn how and why their approach to Islam must be replicated among us today.



THIS COURSE CONSISTS OF 12 CLASSES THAT COVERS:

The virtues of the Companions
Characteristics of the saved sect
Misguided sects
How the Companions preserved the religion
The faith of the companions
How the companions dealt with revelations
How the companions dealt with disagreements
The manners of the Companions
The Companions and hypocrisy

And much more!
WHY FKAD LIVESTREAM?
ACCESSIBLE: FKAD Livestream is accessible on desktop and mobile devices.
INTERACTIVE: At the end of each live class, students will have the option to interact directly with the instructor

DOWNLOADABLE: Every student receives downloadable course text materials.

SAVE TIME: Speed up the playback of the recorded videos to save your time!
QUICK SUPPORT: Our support team is here to ensure that things runs smoothly. You'll always find the help you need within 24 hours.